Mantra Gym:First Book Exposed 4 G-spots in Men & 5 In Women,
Sex Drive Exercise For Prevent Prostate Enlargement and Gain Full-body-orgasm
For those who want "Last Longer in Bed", "Keep an Erection Firm", "Increase Penis Size", "Stop Premature Ejaculation", "Have Hardcore Sex" and more…
I'm the book Mantra Gym author, Maya Wang, with my over 12 thousand manhood therapy sessions across 15 years, my sex tips are unique, easy to follow and the results are amazing.
I've had so many amazing discoveries of our sexuality that will inspire you… GUARANTEED!
Mantra Gym is a comprehensive sex education book for everyone!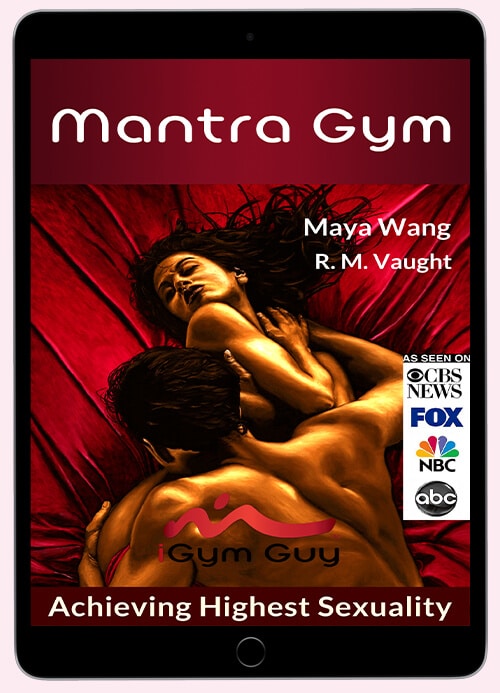 My Amazing Book: People Do Get The Help!
"

Awesome Book

 Can't say enough about Mantra Gym. The first part Theory of Sensuality contends that men and women have almost the same G-spot locations, it sounded unbelievable but made sense after reading through. I can easily see the benefits. Especially, using MDC for delaying ejaculation to get multiple orgasms, it worked well for me. I just followed Part Two iGym to practice. Now I can stop my ejaculations as needed and said bye-bye to my Premature ejaculation!!! The whole book led me to a greater knowledge of my body than I have ever experienced before. Also, I have never seen any illustrations that show the male and female Reproductive System like that! There are too many "never experienced". I learned a lot from the book. Thanks Miss Maya! ……  from Google Play User Review 2015
I bought Mantra Gym and I would like to recommend it to every one. I'm not only curious about Maya's secret skills but also want to learn the Gym to keep me in good health. I love this book and it's awesome.
The book is easy to understand and tells the things are so true

.

I used think I had premature ejaculation, but Maya read my mind and pointed me the reasons in our session. The book and the session have changed my life. Thanks.
Dear Maya, your book helps me a lot to understand a man. My boyfriend couldn't last longer enough to make me orgasm, so he felt "useless". Since we've read your book and we have many ways to satisfy each other. Thank you so much!
There Are Two Parts In Mantra Gym: Theory & Practice
Part One – Theory Of Sexuality
Let's me revealing some secrets to boost your sex life. I've been seeing men everyday about their sex matters, the downside and upside. To avoid the downside happening on you too soon, you guys MUST learn from me…
Males and females sharing common G-spots locations. There are 5 G-spots in women and 4 G-spots in men. Wang has named these as "Y-zone g-spots"

Male and female orgasms originate from the same three sources. Maya Wang has named these "The Three Levels of O